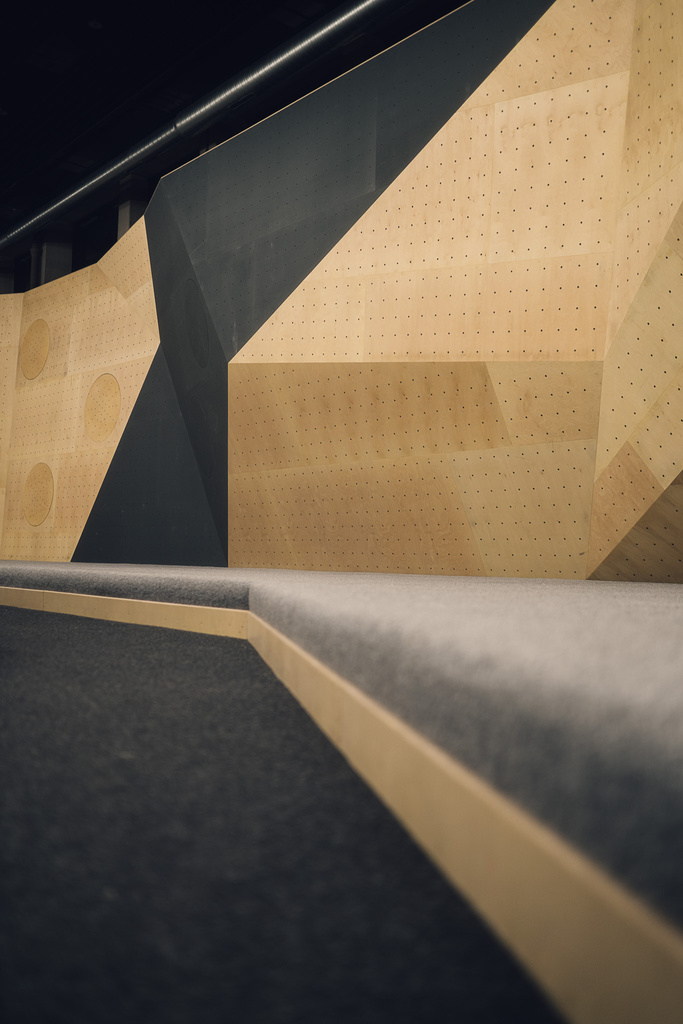 Manufactured according to DIN EN 12572 and tested, the approximately 30 cm high mat system from Blocz consists of various elements: First, a core of soft foam and above this layers of firmer foam. On top is a pressure manifold, which distribute the pressure on the boulder mat. All components are in a frame made of multiplex boards. 
Harder edge strips that border the edges give the mat stability and reduce the risk of injury when bouldering. We cover the top of the pad optionally with different versions of PVC plane or carpet. To make the cover last, we finally attach it to the wooden frame running around the mat, which is then anchored to the ground.
The surface material also determines the hardness of the protection: The softest mat has a pure PVC surface, which can optionally be provided with a circumferential carpet tape on the bouldering wall side, which is individually adapted to the shape of the wall. This tape can be 1 to 1.50 m wide and helps to keep the bouldering walls and holds clean by absorbing most of the shoe marks, dust and chalk. The PVC surface is available in all RAL colors, the carpet tape only in light grey. You can check out the variety of our mats in our finished reference gyms.
Boulder mats with carpet tops have many advantages, what makes them a popular choice. Not only do they provide pleasant acoustics due to their sound absorbing properties, but they also trap dust, which improves air quality. Carpets come in a variety of pile heights, although longer piles tend to trap more dust particles. A disadvantage is that carpets are more time-consuming to clean because they need to be vacuumed.

Solid carpet mats are fully bonded with PVC sheeting on the underside and welded on the sides, greatly reducing the risk of injury. In addition, an aesthetic appearance is guaranteed for the long term. This process allows the carpet surface to be installed more quickly than a pure PVC surface and is so strong that it only needs to be fixed on the outer sides. This makes it easy to replace not only parts of the surface, but also individual mat cores.
Since we can replace every component, our bouldering mats have a very long durability with regular care and maintenance. In particular, the heavily stressed foam segments can be replaced individually due to our Blocz design. Thus, the costs for our repair service are quite manageable. Due to the simple application, minor repairs can be carried out independently with the repair kit. It is not without reason that more and more gyms rely on our bouldering mats.